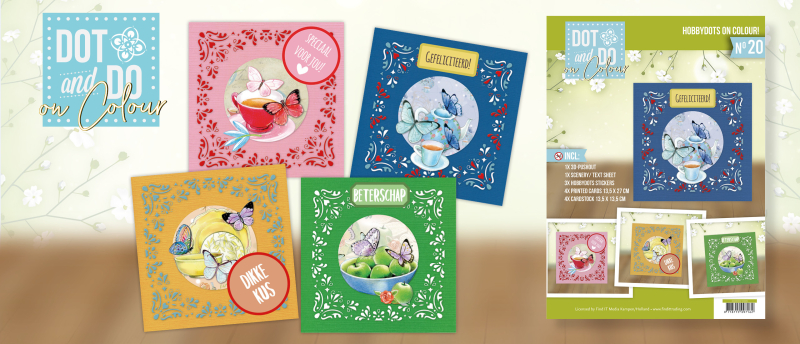 Dot and Do on Colour 19 - Amy Design - Elegant Swans 🦢🦢 en Dot and Do on Colour 20 - Jeanine's Art 🦋🦋
Uniek aan deze complete Hobbydots-set is dat het patroon is gedrukt op donker karton.🌃 
 ✨ Naast de bekende Dot and Do-sets met patronen op wit karton is er ook Dot and Do on Colour: voorbedrukte patronen op donker karton. Met een speciale druktechniek wordt het patroon in metallic kleuren weergegeven zodat dit goed zichtbaar is op donker karton. Je kunt deze kaarten zonder Led Board maken. 
In elk pakket Dot and Do on Colour vind je alle materialen voor 4 complete Hobbydots-kaarten. 
 De afbeeldingen van deze set zijn afkomstig uit de collectie Elegant Swans van Amy Design 🦢 en de collectie Butterfly Touch van jeanine's Art 🦋.
Let op: ze zijn verkrijgbaar op verschillende data!
📅 Dot and Do on Colour 19 vanaf 4 mei
📅 Dot and Do on Colour vanaf 6 mei.
💳 Adviesprijs: € 7,99
ℹ Artikelnummer: DODOOC10019 en DODOOC10020
📍Verkoopadressen: hobbyjournaal.com/verkooppunten